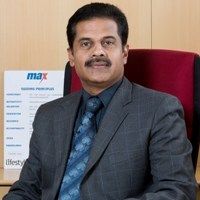 Vasanth Kumar
Executive Director
Max Fashion India

'Traditional high-street retailers are now willing to offer franchisees to brands. This is pushing Tier II and Tier III cities to become more organised.'
What is the size of the apparel retail segment? How would you describe the apparel retail scenario in Tier II and Tier III cities in India? How is denim apparel doing at Max?
Overall apparel retail is growing at seven to eight per cent. Organised apparel retail is growing at 15 to 18 per cent in India. The fastest growing category in apparel is kidswear, followed by womenswear. Organised retail in kidswear seems to be growing by 20 to 22 per cent. We are growing 40 per cent. Organised retail in womenswear is growing 16-18 per cent. At Max, this segment is growing 35 per cent.
Tier II and Tier III cities are predominantly unorganised where local family-owned shops are key players. But we see the apparel retail market getting organised. Today, consumers from these cities are more exposed to international fashion and trends due to exposure to metro cities. Retail spaces like malls and shopping complexes are growing in Tier II cities. Traditional high-street retailers are now willing to offer franchisees to brands. This is pushing Tier II and Tier III cities to become more organised.
Max is present in 55 cities across India. Landmark Group's presence in Tier III cities is growing with the launch, last year, of its apparel and footwear private label, Easybuy. This caters to the value segment. Easybuy is cheaper than Max and looks at regional tastes. It will be opened at district headquarters of Tier II and Tier III cities. It operates on the franchisee format and has been received well. So far, 15 stores have opened. We will be opening 25 more stores and are focussing on growing in southern India. In the next three years, we plan to expand to other regions in India.
Denim is a strong category. The dominant demand for denim comes from men. It sells round the year but sales in autumn/winter are relatively high. Stretch fabric in denim is critical for growth. Wash innovations are working well in womenswear. In kidswear, for the age group 8 to 14 years, denim is a staple. The only segment it is not popular, because of the roughness of the fabric, is for infants.
Published on: 14/05/2016
DISCLAIMER: All views and opinions expressed in this column are solely of the interviewee, and they do not reflect in any way the opinion of Fibre2Fashion.com.