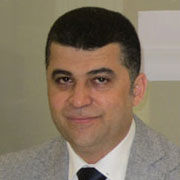 Serkan Gogus
Commercial Director
Mogul Tekstil, Ltd.

Company Details
Business Area:
Nonwovens - Motex PP Spunbond, Mopet PET Spunbond, Aqualace Spunlace, Meltblown
Can you give a brief account of the market for different types of nonwovens in Turkey? What makes a product different from the rest which will spare the manufacturer competition in the market?
For the current scenario of the market for wipe nonwovens in Turkey, I will say that spunlace wipes' market in Turkey is very strong. There are many players in the market who export majority of the capacity. On the spunlace fabric side, there is a strong competition from multi players, and with new investments installed capacity, production will be more than consumption. So producers must export a reasonable capacity, making room for expansion in export market in the near future.

Similarly, PP spunbond market in Turkey is very strong and is growing. But of course, there have been massive investments in the last several years, mainly to Chinese origin lines, which have put prices and margins under pressure due to high competition. Despite this, PP spunbond market in Turkey has retained its strengths and advantages.

With regards to the demand for PET spunbond nonwovens in the market, it is not very strong comparatively. This is because PET spunbond applications are usually high tech applications, and are only in a developmental phase in the country. So, its market is small with growth potential for the future.

I would like to say that if a product is special, it will always have a lesser competition as there will be less number of suppliers. We don't have too many products, but we have a diversity of product range that makes us different from the rest.

Published on: 04/03/2014
DISCLAIMER: All views and opinions expressed in this column are solely of the interviewee, and they do not reflect in any way the opinion of Fibre2Fashion.com.