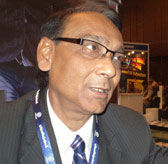 Mr. Alok Roy
Corporate Manager - Retail
Moustache Intl. Pvt. Ltd.

Company Details
Business Area:
Manufacturer and retailer of men's and ladies' casual wear
Export Capabilities:
20,000 pcs / day
Clientele:
UAE, UK, Germany, Switzerland & USA
How is the denim segment faring currently? How shall be its growth pattern? How do you see consumer preference and buying behavior evolving? Any concerns that you would like to voice?
Starting from the history of modern denim, since its introduction in the market, it has undergone a sea change. Once upon a time it was for the Mexican cowboy look, but now it has evolved to give a macho look and has become a lifestyle statement to buy a branded fashionable Denim product. Earlier we used to see distinctive demarcation between formal wear and casual wear. Basically, Denim used to be considered as casual wear. But now, all over the world the concept of Casual and Formal wear has gone. More and more people are getting attached to casual wear considering the utility of the product.
With the globalization of the market, India is also not lagging behind to adopt the changing mode of fashion wear. We are the 2nd largest producer of Denim after China which obviously indicates that more and more population is switching over to Denim sector in the fashion Industry. About 3/4th of the Indian population is youth within the age group of 35years due to which the casual wear denim segment has seen a huge growth.
The Indian apparel market is currently pegged at around INR 1400 bn, growing at a CAGR of 12%. This means the Denim sector is also growing at the same rate if not at higher percentage.
The apparel industry constitutes around 26% of Indian exports. In the high growth, fast changing clothing retail market, there are significant growth opportunities that are indicative for domestic as well as foreign players. The Indian market is being watched closely by the foreign players due to the opening up of FDI with limited rider placed by the Indian Government. Most of the European countries are reeling under the pressure of servicing of Interest on Loan; the economy has been put under tremendous pressure of high inflation. Hence, the foreign players are eyeing at the Indian market to sustain. Once the market is opened up in whichever way, the scenario of Indian market will see a stiff competition for the survival of the fittest. Eventually, the industry will have a high growth rate including the Denim sector. It should also be noted that most of the Indian branded apparel companies are establishing their retail presence in foreign destinations to mop up the opportunity of globalization, thus putting a high growth sentiment within the industry.
(Contd.)
Published on: 01/06/2012
DISCLAIMER: All views and opinions expressed in this column are solely of the interviewee, and they do not reflect in any way the opinion of Fibre2Fashion.com.