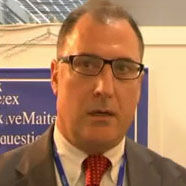 Mr. Enrico Serafini
Export Commercial Director
Piave Maitex SpA

Company Details
Business Area:
Lingerie, Corsetry, Swimear, Beachwear, Activewear & Sports, Outerwear
Export Capabilities:
50% domestic & 50% exports
Clientele:
Western & Eastern Europe, Far East, Americas
From the wooden loom to computer integrated manufacturing, your group has evolved as a pioneer in Stretch Fabrics. What is your summation on current happenings in your sector of expertise?
As an established player in the industry of stretch fabrics, it is our opinion that, till today, the lingerie sector is undergoing some important changes. Generally speaking, from the year 2008 the market consumption in lingerie dropped significantly, also because the supply of materials, intended as fabrics and accessories, by far exceeded the demand. The new situation partly created the premises for defining today's lingerie fashion trends and product R&D guidelines.

It is a fact that the greatest buzz for lingerie fabrics in the last decade was mainly 'handfeel'. Women increasingly discovered the pleasure to wear soft, comfortable fabrics with a pleasing touch. As a result, handfeel is today a necessary ingredient for any top selling lingerie fabric.

Another important factor that contributes to the definition of lingerie stretch fabrics today is the success of shapewear, a trend that in many ways redefined traditional corsetry. In fact, one of the crucial lingerie product development guidelines today is to create fabrics having enhanced shaping and control features with limited or non-constrictive side-effect.

In the case of shapewear, the primary objective is to develop and propose fabrics that are fully responsive to the current general feminine desire of shaping and "sculpting" the body, ultimately creating a sort of functional textile coating that must remain comfortable and never too constrictive to wear. Related to these expectations are clearly the fabric physicals, requiring specific features like elongation values and a functional weight i.e. the lighter the better. Fabric weight is objectively a critical factor because women today definitely wish to look more attractive yet feel uncompromisingly comfortable ( a trend that begins to apply also for men's underwear), a fashion mood setting new performing standards for lingerie fabrics.

It is true that the use of high gauge knitting machines simplifies the response to the contemporary consumer requirements for lingerie stretch fabrics but it is also true that these kind of fabrics can be quite complex to industrialize.

(Contd.)
Published on: 07/03/2012
DISCLAIMER: All views and opinions expressed in this column are solely of the interviewee, and they do not reflect in any way the opinion of Fibre2Fashion.com.