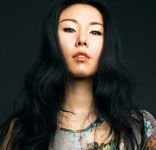 Ping He
Owner and Fashion Designer
PINGHE

Company Details
Business Area:
Ready-to-wear garments
How is the ready-to-wear garment market faring in the global fashion industry? Please comment on the changes which have taken place in the market, its latest trends, and its future prospects?
Ready to wear is constantly a competitive key market globally. Focusing on one part of the world is not enough, from Europe, to America and the Far East are equally as important. Tailoring designs to fit the world is not an easy task; however understanding the needs of each creates a platform in which to develop.

Minimalism has been a key trend that many designers have tried to emulate. This can be seen to have taken trend for the past 2-3 years. Minimalism is one of the most difficult areas to achieve successfully as the craftsmanship and understanding of how the body works with a garment needs in depth knowledge. Some may think of minimalism simply as a commercial or uninspiring concept. However this is where true design derives from! Striping back to the basics enables you to fully achieve a garment that is not only a superb design, but also functional and ultimately one that is wearable.

In today's market, customers demand original creativity with a premium feel; sophisticated fabrics and innovative designs are fundamental concepts that must be met for our customer's needs. More importantly, the way of running a business has changed dramatically, a more hands on creative approach rather than a traditionalist's way ensures the business' ever-strong globe positioning.

Besides Europe and the U.S, I feel Russia and China will be key contributors to move into ready to wear on a much larger scale than other parts of the globe. This is due to their already massive globe power and influence. This can be seen to emulate into the world of fashion and will only become stronger with time.

Fashion is understandably a multi billion industry, which is ever expanding. Fashion is a tool in which society use for functionality; environmental factors, stylistic approaches and even the way it makes you feel are all angles to which one interacts with fashion. Fashion is a basic human need and it's simply the way one chooses to use fashion that depicts the way it works amongst each individual. The industry continues to grow, is ever important and will continue to influence everyday life.
Published on: 20/12/2013
DISCLAIMER: All views and opinions expressed in this column are solely of the interviewee, and they do not reflect in any way the opinion of Fibre2Fashion.com.