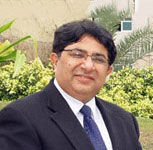 Mr. M.Saleem Ahmad
Chairman
Safetex Group

Company Details
Business Area:
Manufacturing of Home Textiles & Bedding Range, & PSF
Turnover:
AED100 million / annum
Export Capabilities:
Domestic- 20%, Exports- 80%
Clientele:
UAE, Saudi Arabia, Oman, Bahrain, Qatar, Kuwait, Egypt, Algeria, Morocco, Kenya, Tanzania, Ghana, South Africa, Chad, Sudan, Iran, Iraq (Kurdistan)
Your group is an established manufacturer in Home Furnishing, in UAE. Please provide a glimpse on movements in this sector there-
Today, in the wake of surrounding markets in Middle East and changes in political scenario there in, we see an effect on buyers' attitude. Especially, in Egyptian market the buying power is reduced by 30%. However, on the other hand the African markets are growing at the rate of 40% in the purchases.
Compared to previous years these consumers are well aware of international standards nowadays, and therefore demand the products of very high qualities.
Today, emerging markets are mostly from West African region. For 2012, we will highly focus on new markets in Africa, especially Central and Western Africa, including CIS countries. Also we have started shipping goods to Philippines and working with ASEAN markets too.
Though, there is oversupply of products but still there is lot of scope for growth of big brands as the consumer choices and demands are increasingly based on value for money these days. In particularly, Middle East is very well aware of values that brands offer. Here, a consumer looks for better brand quality and visits quality departmental stores instead of hypermarkets.
To scale up our market share in such a quality conscious market, we have diversified our products towards upstream producing pet resins. As we consume Polyester Staple Fiber (PSF) for our products, in order to assure best quality right from the raw material stage to final product- all in our control, we have forayed in PSF production line (plant m/s. Emirates fiber industries) with intent to go self-reliant in 50% of its produce consumption and rest to sell for various application to respective clients.
Safetex envisages its overall growth of 20% for 2012.
*******
Published on: 10/01/2012
DISCLAIMER: All views and opinions expressed in this column are solely of the interviewee, and they do not reflect in any way the opinion of Fibre2Fashion.com.