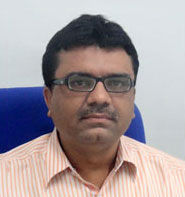 Mr Piyush Chandarana
Vice President
Soma Textiles and Industries Ltd

Company Details
Business Area:
Denim fabric, Cotton Piece dyed fabric, Denim Jeans garmenting, Ring and Open end yarn
Turnover:
INR 3.5-4.0 billion
Export Capabilities:
Denim fabric-24 mn metre/year, Cotton-piece dyed fabrics-12 mn metre/year, Jeans-2.4 mn pieces/year
What is your take on the growing potential of denims in the Indian domestic market and how do you look at the surplus capacity troubling the Indian denim fabric industry?
Per capita consumption of denims in the western world is around 5–7 pair of jeans, while in India , it stands at just 0.50. On the other hand, organized retail contributes to 85% of the business in USA , while for India (apparel category) it stands at just 14-15%.
With the ever growing cool and casual consumer attitude, coupled with product versatility, fashion quotient and wearer comfort, denim consumption is going to grow in India . With FDI approval for single brand retail, the ever increasing per capita income and Friday dressing as the new avatar of formal attire, overall it's going to be very interesting phase for denim industry on a medium to long term basis.
Indian denim fabric manufacturing annual installed capacity has reached to the level of 950 million meters and at the same time the domestic market has been growing at an annual rate of 12–15%. However exponential capacity expansion in last couple of years has overtaken the annual growth of the domestic market and has created time bound surplus capacity, which is close to 20–25%.
Adding fuel to the fire, even Bangladesh denim fabric manufacturing capacity expansion has been rampant. Bangladesh has historically supported us, to sail through the lean and thin phase of the denim business cycle. Europe is still in the middle of recession while USA is on its way to recovery. In light of the above, business deliverables like product innovation and reengineering, operational excellence, cost optimization and efficient marketing initiatives shall play key role for creation of sustainable business module.
Published on: 14/06/2013
DISCLAIMER: All views and opinions expressed in this column are solely of the interviewee, and they do not reflect in any way the opinion of Fibre2Fashion.com.