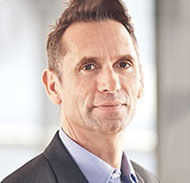 Jurgen Gauger
COO
Spreadshirt

'Buying crowdsourced or creative designs are much more appealing to the consumer.'
Company Details
Business Area:
Print-on-demand clothing and accessories
How is the market for personalised prints on garment shaping up? What are the challenges of being in such a business and which new markets do you intend to enter?
We need to separate personalised from the print-on-demand driven custom items. Truly personalised garments are where consumers and businesses add their own designs, logos or text to garments, which is growing slowly in the US. Websites we track in this market have seen a 20 per cent drop in visits year over year and the market for print-on-demand clothing where the custom designs are crowdsourced or created to be sold to consumers is booming and up almost 40 per cent year on year in visits. This is because buying crowdsourced or creative designs are much more appealing to the consumer than creating their own or buying standard licensed items.
Detail, detail and more details! A vast majority of our orders are single items; we have to print and deliver thousands of them within a few days, with the right quality and at competitive pricing that still allows for the idea creator and us to make a profit. On top of this, we have created and continue to improve our print-on-demand ecommerce platform that runs over 50,000 shops and allows 70,000 selling designers, to put their ideas for sale in 20 countries, 12 languages, 11 currencies and delivery to over 150 countries for no upfront costs. At every level from marketing, to ecommerce, to printing and delivering, this involves an incredible amount of detail and consistency.
This year we are concentrating on allowing our sellers to better move their products between the 20 countries. We are also finessing the 3 countries launched in 2014: Australia, Brazil and Switzerland. Down the road, we are seeing strong traffic from Asia therefore we expect to head further east in the future.
Published on: 25/01/2016
DISCLAIMER: All views and opinions expressed in this column are solely of the interviewee, and they do not reflect in any way the opinion of Fibre2Fashion.com.