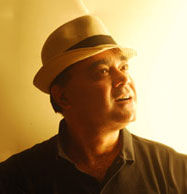 Mr. Ranjiv Ramchandani
Founder & Director
Tantra T-Shirts

Company Details
Business Area:
T-shirt brand
Export Capabilities:
250,000 pcs/month
Clientele:
India, New Zealand, England, Japan, U.S.A., France, South Africa, Poland, Fiji
You deal into t-shirts only. How wise is it to bank on one product in times of fierce competition? What is the mantra for building a successful brand?
Tantra was the first company in India to look at the humble t-shirt as an important brand category. At the time we started our t-shirt brand, the landscape was virtually barren, and filled with monotonous and self-flagellating 'logo' tees. Suddenly, here was an upstart with funny images, talking to, and not talking down. For the first time a t-shirt brand spoke the language of currency. You could wear us, like us, write to us, and be our friend.
Today, the youth of the country have made 'knits' as their preferred choice of casual attire. Hence, the market has exploded, with mainly the unorganized sector playing a huge role. Thankfully our trail is strong and so is our tail. Our strategy is simple: stick to the core values of the brand, work on our creative strengths, increase products and ensure penetration into markets as yet unexplored.
Steve Jobs once famously said that 'you should find what you love to do, then do it'. We love to do t-shirts. We love to tickle, communicate, humor and re-arrange mind-sets, via copy or art. We are artists and writers first, and we use the t-shirt as a canvass, to carry our message.
Often we are asked: "Is it wise to bank on only one product in times of increasing competition?" Our answer is: "absolutely". Like surgeons, we want to be 'super-specialists'. And we want to stick with doing what we love. It's all about focus, and staying sharp. Take the case of Xerox. How many people know that Xerox makes printers and scanners too? As long as we stay in the t-shirt / knits domain (preferably with the Tantra spin), we stay focused. Making shirts & denims may make us more money, but it would make us a 'generic' brand. Why not create more t-shirt labels instead? That is exactly what we're doing.
*******
Published on: 06/06/2012
DISCLAIMER: All views and opinions expressed in this column are solely of the interviewee, and they do not reflect in any way the opinion of Fibre2Fashion.com.