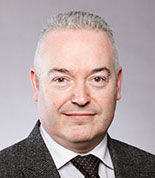 Paul Alger
Director of International Affairs
UKFT

Do you suppose that brands from emerging fashion economies can beat the brands from well established fashion economies in the global fashion sector?
China has always, understandably, aimed higher. China has been sending students to most international fashion universities for years. Japan and Korea have done the same. The difference with China and Korea is that many consumers are happy to buy locally produced brands. Korea has a number of very successful home-grown designer brands. There is every chance that China will develop its own designer brands, effectively gobbling up our lunch. I would say this is less about a long-term plan hatched long ago but much more about a logical progression once China set out to take over volume production.

Whilst the 21st century is likely to be the Asian century and we should all be learning Mandarin, the international press is still firmly influenced by the values of the 20th century. This will change, albeit slowly as even wealthy Asian consumers like to buy from Western brands. Only once these consumers really get into the swing of selecting products instead of relying on brands, will we see this change. Initially I would expect Chinese brands to try to team up with some well known international designers who will find the lure of the money irresistible.

Many of the emerging Asian markets aspire to a western lifestyle or at least their urbanized perception of it. On the assumption that we can preserve this lifestyle, then I think that Western brands and designers will always make up a disproportionately high percentage of designer brands, but we should expect the progression of some successful local brands and we all know how receptive Western retailers can be to a new trend!

When they are ready, I think that Chinese factories will use their financial and political clout to put together new brands, supported by Western professionals and brands who will find it difficult to resist the lure of the money at a time when business at home is more difficult.
Published on: 02/04/2014
DISCLAIMER: All views and opinions expressed in this column are solely of the interviewee, and they do not reflect in any way the opinion of Fibre2Fashion.com.