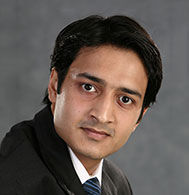 Rajesh Goradia
Co-founder
Vitruvien

'A lot of men face difficulty in fitting into average sizes of readymade shirt brands'
Company Details
Business Area:
Bespoke garments
How is the market for bespoke collection in India as compared to other countries? Are Indian consumers easily accepting bespoke garments?
Bespoke is an emerging concept in India, albeit one that has now started gaining acceptance. When we started off, we were facing a challenge as the market was new, niche, and our prospective consumers were skeptical. But it is fast emerging as a trend - right from accessories, watches, bags, you name it! Custom clothing is currently a niche, emerging segment, with only a few players operating in the field. In India a few start-ups have launched online platforms in this space over the past few years. However, internationally, there are established brands that have their own independent manufacturing operations as well. We believe that, in time, India too will witness a growth trajectory, leading to a robust market like in the West.

Over time, as online shoppers get more discerning and desire more exclusivity they will naturally progress towards more and more personalization. We're already seeing a huge opportunity for online retailers in India.

Vitruvien.com was launched with the idea that you don't fit into a shirt, the shirt needs to fit you! We had to increase awareness and address concerns over bespoke. Also additionally, we needed to offer our consumers a distinctive shopping experience right from the time they logged onto our site. We developed the 3-D customizer to enable customers to view their shirt design in real time and it helped customers to understand the final look of the product which has given them the confidence to place the order.

Indian customers are certainly more open to the concept of bespoke clothing as the idea of a tailor made shirt appeals to all. At Vitruvien.com, we aim to offer customers shirts that are perfectly tailored to fit their unique size with fabrics primarily made of Egyptian Giza Cotton. In today's era where customers look for exclusivity and are conscious of not having a common product, Vitruvien is the right choice of dressing for the discerning Indian men.

A lot of men face difficulty in fitting into average sizes of readymade shirt brands. Muffin fit, collar choke, droopy shoulder, shirt dress are just few of the problems men face while opting for off the rack clothing. Standard sizes don't work for all and hence men today are open to the idea of bespoke and customization. For them, we offer not only the opportunity to get a tailored fit unique to their size but also the ability to style the shirt to suit their fashionable taste. The unique measurement profiles, an evolving catalogue of both classic and fashion forward shirts and an unparalleled number of customization options makes the idea of bespoke clothing appealing to our customers.

Working professionals living in metros and Tier 1 and 2 cities who are conscious of fashion trends, have an evolved taste and like to experiment and hence the demand for bespoke garments from this segment is high.
Published on: 30/09/2014
DISCLAIMER: All views and opinions expressed in this column are solely of the interviewee, and they do not reflect in any way the opinion of Fibre2Fashion.com.