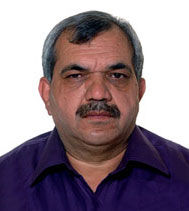 Mr. Anil Sharma
CEO
Winsome Group

Company Details
Business Area:
Yarn & fabric manufacture
Export Capabilities:
50% export, 50% domestic
Clientele:
Far East, Bangladesh, Srilanka, Mauritius, China, HongKong, Egypt, Morocco, Tunisia, Turkey, Europe, South Africa, East Europe, Russia, Latim America, Central America & North America
Your group is a dab hand in yarn business. Please apprise us with your outlook on global yarn market shaping amidst upheavals in raw material industry.
India is the second largest spinner of yarn in the world next only to China. Also, India is the largest exporter of the yarn in the world.
Following are the opportunities and threats that we are going to face in the global yarn market
OPPORTUNITIES
Availability of raw materials
India is fortunate to have world's 2nd largest production of Cotton fibre and 2nd largest production of man-made fibre. This gives India a sharp edge over other countries to expand its production base. India is going to be net surplus in availability of both - man made fibres and cotton and availability of local raw material is assured.
Demand for Textile products in general
Even though there is stagnation to fall in the population of developed nations, but, overall there is still growth in the world population. Also, there is healthy increase in the middle class population in developing nations. This is going to be a fuel for growth in the demand for Textile Industry in future.
Demand of Yarn from China
China and Hongkong are one of the largest importers of our 100% cotton yarn. Also, there is shift in the policy of China and they are already in the process of slowing the investment in spinning industry and to focus more upstream on the value chain. Indian Spinning Industry will gain directly from this China policy with increase in cotton yarn exports.
Published on: 09/05/2012
DISCLAIMER: All views and opinions expressed in this column are solely of the interviewee, and they do not reflect in any way the opinion of Fibre2Fashion.com.