Carhartt & Chrysler team up to launch new workwear line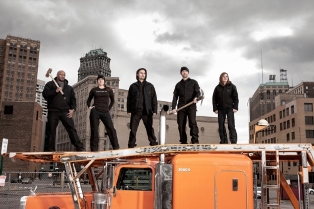 Two metro Detroit-based companies are joining forces to pay homage to the city they call home. Carhartt and the Chrysler brand have launched a new line of limited edition "Imported From Detroit" work wear that is available exclusively at Carhartt's Sullivan Center Store in Chicago. This Detroit-inspired collection, which will debut at the 2012 L.A. Auto Show, includes limited edition shirts, jackets and pants that are each individually hand-numbered from 1 to 200.

"The pairing of the Chrysler brand and Carhartt is another example of how we are continuing to champion the energy created from the 'Imported from Detroit' campaign," said Saad Chehab, President and CEO – Chrysler Brand, Chrysler Group LLC. "Carhartt shares Chrysler's respect and appreciation for hard-working Americans."

The "Imported from Detroit" by Carhartt work wear collection is 100% made-in-America and includes many iconic Carhartt styles with exclusive design detailing like blacked out hardware and leather brand labels.

The line includes:
Detroit Jacket
Chore Coat
Active Jacket
Women's Detroit Jacket
Long-Sleeve Signature T-Shirt
Mechanic Shirt
Women's Signature T-Shirt
Firm Duck Double-Front Work Dungaree
Knit Skull Cap
"Detroit reflects the industrious, hard-working, nose-to-the-grindstone spirit of America and Carhartt takes great pride in having called this city home for the past 123 years," said Tony Ambroza, vice president marketing, Carhartt. "We are excited to support Chrysler's 'Imported from Detroit' campaign with this line of made-in-America work wear.
Featuring several iconic Carhartt styles, this collection is for the blue collar men and women who value a hard day's work and everyone who knows what it's like to roll up their sleeves to get the job done."
Carhartt