Rocky Brands declares quarterly dividend of $0.10/share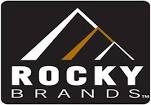 Rocky Brands, Inc. announced that its board of directors has declared a quarterly dividend of $0.10 per share of outstanding common stock, which will be paid on March 10, 2014 to all shareholders of record as of the close of business on February 28, 2014.
The declaration and payment of future dividends and the establishment of future record dates and payment dates are subject to the quarterly determination of the board of directors and that doing so is in the best interests of the Company's shareholders.
About Rocky Brands, Inc.
Rocky Brands, Inc. is a leading designer, manufacturer and marketer of premium quality footwear and apparel marketed under a portfolio of well recognized brand names including Rocky, Georgia Boot, Durango, Lehigh, Creative Recreation, and the licensed brand Michelin.
Rocky Brands