Puma unveils path breaking running shoes - Mobium Elite V2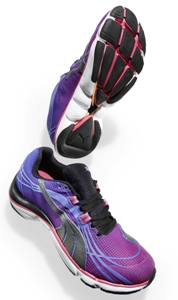 For PUMA, 2013 was the Year of Performance Innovation – with the launch of the path-breaking running shoe - Mobium Elite. In 2014, the brand extends and refines its performance offering for the sports enthusiast – presenting a technically advanced range of Apparel, Footwear and Accessories for the Spring-Summer season.
As an addition to the new Adaptive Running category, the Mobium Elite V2 is an innovative running shoe built to mimic the biomechanics of the human foot. This season's version features a new upper fit; a lockdown technology that secures the midfoot and/or heel without inhibiting the foot's natural movement.
The Faas Family of Running Shoes has been a celebrated and preferred choice for many Runners since 2011. The SS '14 season sees the launch of the FAAS 300v3, performance-training shoe that features a lightweight platform with a minimal and deconstructed upper making a lighter faster running experience.
Designed specifically for the female runner, the Faas 600S features a distinct midsole and outsole that offers greater stability and forefoot flexibility. Built for the slightly more traditional stability runner who heel strikes, the Faas 600S is at an 8mm heel to toe drop which encourages runners to midfoot strike.
PUMA