ONLY shows new denim range through S/S campaign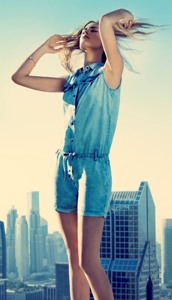 ONLY shows off its denim DNA through its brand new Spring/Summer campaign. The fashion- forward campaign centers on ONLYs latest denim collection and features model Sonja Van Den Heever, who fiercely portrays the core of ONLYs denim universe through intriguing pictures, in which she models.
ONLYs ultimate denim must-haves, such as this season's trendy jumpsuits and the classic slim fit jean. With her fresh look and understated intensity, Sonja is the quintessence of coolness and consequently the perfect pick for portraying ONLYs denim world.
The campaign images were shot in the streets of Bologna, and the monochrome look of these visual surroundings functioned to further strengthen the vitality and power that that frames collectively radiate.
These simple settings - along with Sonja's strong portrayal - made the campaign successful in objectifying the very essence of the ONLY attitude and denim feel.
ONLY