Action sports lifestyle brand Animal opens new store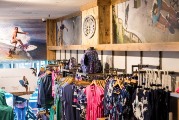 Animal, the UK action sports lifestyle brand based in Poole, Dorset is proud to announce the opening of a new Animal store in Torquay. The 2,493 sq ft store is located on Fleet Street, Torquay.
Relocating from their former premises on Union street, Animal officially opened their new store on Saturday 22nd March, showcasing its Spring Summer 2014 collections across men's, women's, boys' and girls' clothing.
Animal's Head of Brand and Marketing, Joel Pickering, commented "We're delighted to be opening a new store in Torquay. Animal has a strong heritage in the UK market and the store is in an ideal location on the main stretch towards to the beach. We have introduced a new design to the store focussing heavily on our core sports and action imagery of our riders."
Animal