Louis Philippe Fashion Formals to provide complete wardrobe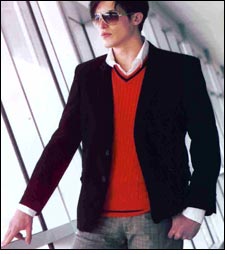 Lp - the youth brand from Louis Philippe, has introduced new Fashion Formals range for young and successful urbanites. This range is for those who need wardrobe versatility in their everyday formal clothing.

The range exquisitely designed for youth exudes élan, style and success which personifies youth. Lp is for the young achiever who is in a hurry to make a mark in this world and yet, wouldn't compromise on either the fun or the values enroute.

The Lp Fashion Formal collection has an exciting range of shirts, trousers, suits, jackets and accessories, to provide a complete wardrobe to compliment those killer instincts at your work area.

This exhilarating range of ultra-modern formals, crafted with love and passion and a discerning eye for detail, has been styled by a group of ace designers from New York and Bangalore at a design laboratory aptly called ThincTank New York.

"Finis Coronat Opus". Or quite simply, "the finish crowns the work". With this design philosophy, every garment in this line is a trove of hidden treasures with subtle nuances that will delight the wearer and allow him to discover something new everyday.

There are shirts with fine embroideries on inner sleeve plackets, trousers with a special tape on the inner waistband tucked under the trim fabric to be revealed to the delight of the wearer, suits and jackets with the center button on the sleeve stitched with the thread of the brand color to make a subtle statement, and more!.