Cornerstone outlets bring affordable luxury to Bangalore city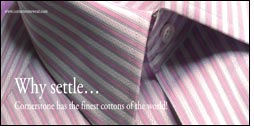 Zerostock Retail Pvt Ltd on Thursday announced the availability of Cornerstone, its premier menswear brand, in Bangalore with five exclusive stores in the city.

Started with an initial investment of Rs 16 crores, the company is planning to have 30 exclusive outlets in Hyderabad, Bangalore, Chennai, Kochi, Pune, Jaipur and Kolkata by the end of March 2008.

On February 21 this year, Cornerstone was launched in Hyderabad. In Bangalore, Cornerstone stores are located at Jaya Nagar, J P Nagar, Malleshwaram, Marthali Ring Road and Esteem Mall. Over the next few months, the company will add several more outlets in the city.

Cornerstone brings affordable luxury to customers along with an unprecedented wide range of sizes that is not even offered by the premium readymade brands.

Each Cornerstone store has over 300+ designs across a range of formal & casual shirts, roundneck T-shirts, Polos and Chinos to choose from. Cornerstone also operates its own website where customers can make their purchases using its secured payment gateway.

Cornerstone scores on variety, quality and value. Fabric count is a measure of the fineness of the fabric; higher the count, finer the fabric. Worldwide, very few brands offer garments of 100's count and above.

Cornerstone, on the other hand, offers over 50% of its entire collection in 100's counts and above. To top it all, for garments of comparable quality, Cornerstone is at least 30% below the market price.