Cottonique to offer allergy-free cotton garments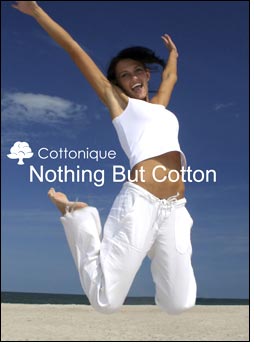 A new brand, cottonique.com, is launching to provide high-quality allergy-free, skin-friendly clothing for people with sensitive skin.

Cottonique is offering a range of products manufactured with new, state-of-the-art technologies made from 100% natural cotton, suitable for use by even the most sensitive of skin and allergy sufferers.

The increase in skin allergies and chemical sensitivities can be attributed to increases in exposure from everyday products, cleaners, environmental pollutants, and chemicals / materials found in clothing.

People suffering with a skin allergy or chemical sensitivity have very limited clothing options. People with sensitive skin or skin allergies need hypoallergenic products that do not exacerbate symptoms, which for some could be life-threatening.

Cottonique.com set out to find a solution to this problem. Combining new technologies with scientific research, the manufacturers of Cottonique's unique line of cotton garments have mastered production techniques so they can now produce quality, allergy-free apparel, without the use of irritants that are commonly found in most clothing brands that can cause skin allergies and skin irritations.

This combination of innovative methods and processes allows Cottonique's manufacturers to produce hypoallergenic clothing.

A unique fabric-knitting process allows Cottonique's to retain the stretch and fit of commonly found apparel, without the danger of latex allergy, spandex allergy, or chemical sensitivity. All fabrics undergo a hydro-pressure purification process to produce pure cotton that is resin-free, formaldehyde-free, hypoallergenic, and chemical-free.