Watch for sartorial excellence at Hameeda's 'Shop-in Shop'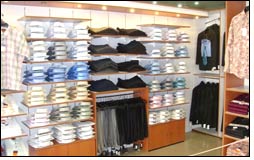 H S Marketing (Pvt.) Ltd, the wholesale arm of the Hameedia Group recently opened its first-ever outstation 'Signature Men's Wear Shop Corner' in the North Central Province under the "Shop-In-Shop" concept at Thilaka Fashion, Anuradhapura.

The second 'Shop Corner' was opened at Mallikas in Aluthgama. One of the main diversified ventures of the Hameedia Group, the concept of the 'Signature Men's Wear Shop Corner' is a significant project in sartorial excellence offering consumers in Sri Lanka, a true value-for-money product range.

Hameedia's jewel brand Signature caters to the entry market and has a young, trendy and sporty personality with the perceived image of a true value-for-money, menswear product range.

Customers in the Anuradhapura and Kalutara districts now have the opportunity of shopping for their clothing requirements at these Signature Menswear Shop Corners which feature the full range of menswear products under the Signature brand.

Director of H.S. Marketing (Pvt.) Ltd. Hussain Sadique said, "When working on this Shop-in-Shop concept, we found great value addition in the entire shop to display innovative products and create a new benchmark in men's branded clothing.

These two first ever outstation Shop Corners provide a total solution for the complete man. This is also the initial step of a wider expansion process, whereby we plan to launch more such Signature Menwear Stores and Shop Corners, under the franchiseeand Shop-in-Shop concept, in the key cities across Sri Lanka by the end of this year".