Hi-Cool shirts to play a key role in the growth of golf wear market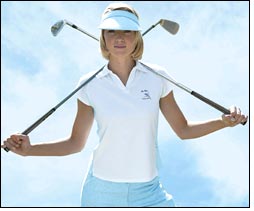 Glenmuir's new Hi-Cool men's and ladies' shirts offer golfers the best of both worlds - outstanding performance combined with exceptional comfort.

The Lanark, Scotland-based company, one of Europe's leading golf apparel brands, has introduced three new shirts to its Men's Performance Series and five to its Ladies' Collection, all offering the soft-handle feel not found with all-synthetic fabrics such as polyester or nylon.

All are manufactured from soft, stylish and lightweight 70% cotton 30% polyester jersey and feature the renowned Hi-Cool Moisture Management System, which delivers extra stretch performance while drawing moisture away from the body to provide exceptional quick-drying wicking properties.

With an athletic fit and modern design, the Hi-Cool shirts signal Glenmuir's intention to play a key role in the growth of the golf performance wear market and provide customers with the very latest in sports fabric technology.

Marketing Director, Andy Bough, said: "Research has shown us that increasing numbers of golfers are looking for modern clothing that will keep them cool on the course, allow freedom of movement and deliver outstanding performance.

"We have reacted to that with our largest-ever range of performance wear and we believe this has established us as a major player in that market. The reaction from retailers and golfers has been fantastic."

The Men's Hi-Cool Zip, Hi-Cool Mock and Hi-Cool Panel, with the prestigious Glenmuir 1891 logo embroidered on the right sleeve, are available for a suggested retail price of £33.50 each and come in sizes S-XXL.