Nostalgic by Savile underscores the pleasure of luxury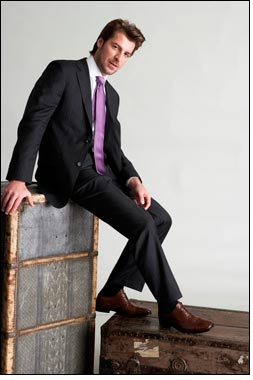 Is pure nostalgia for a long forgotten past? Not so for Savile Row Co London. Recognised for its timeless and elegant men's wear- the super premium-clothing brand Savile Row ensures that men are still dressed just as stylish for every moment.

Reetika Mehra Dalal, Executive Head, Forbes Brands says, "The Spring/Summer' 2008 is centered on the theme of "Vintage look" and perfectly illustrates the feeling of environmental consciousness' that is edgy-authentic-artisanal and overall NOSTALGIC".

Think about a man wearing a fine Italian woolen suit or closely fitted jacket styled into a more closely fitted trouser - An all-new fit from Savile Row's wardrobe.

To complement the new fit he wears a more fitted city shirts- in single; double cuff. Or a business shirt with new, crisp stripes and checks. The Summer clouds loom threatening in the sky jealous of how relaxed his personal style is.

Well, if you love being exclusive, there can be no compromise. Savile Row's definition for Spring Summer' 2008 is clear: more is definitely better.

FEEL LIKE A KING: ARISTOCRATIC
The true spirit of Englishness of an English dress is a symbol of elegance. Savile Row's ARISTOCRATIC range is a persona of royalty that draws inspiration from regal color combos… the lilac and a pristine white enhanced with the dark dark blues, indigo, silver and gold color effects stimulated from the baroque carpets and decorative arts.

The choice includes the best of poly wools and well-finished linens with high quality cotton shirts. This range is more of classy and high couture clothing, which includes shirts, trousers, ties, blazers, two-piece suits, fitted suits and also pure linen suits and blazers.

We have improved our chino story and it now comes in a lighter weight, very soft twill made into our smart jacket shape in two classic colours and be either teamed with a contemporary flat front trouser or more classic single pleat trouser style. This collection is to enhance the personality with luxury.

RELAXED, LIGHT AND AIRY: ATT EASE
Tired of dress codes- relax! The ATTEASE collection is an alternative for evening wear. Encouraged by summer harvest mood- with trees flowering the best colors on the ripe fruits and spices… saffron and orange, rose and green shades with herb and dew tints with bold prints and shades evoke the bounty and richness of nature.