Worldwide essence in lingerie industry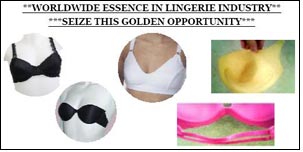 Explore Innovative Technology in Worldwide Lingerie Industry Study Mission to Germany, Switzerland and Turkey 18 – 25 May 2008 (7 days & 7 nights).

Visiting Various Overseas Brassiere Manufacturing Factories and Technology Providers. Enhancing Technology Exchange & Advanced Brassiere Design and Manufacturing.

Development in the Lingerie Industry in Europe and the Middle East Nature & Objective: Lingerie industry has been growing prosperously and the demand from the customers urges the industry to continuously improve its design and manufacturing technology so as to drive for excellence to match the ever-changing market.

In order to provide opportunities to local lingerie industry and companies to acquire the latest information & technology on bra design and manufacturing as well as to explore the technique of management, quality control and automation adopted by European and Middle East companies, Hong Kong Productivity Council organizes a study mission to visit factories and institutes engaged in the design and manufacturing of lingerie.

In this trip, various significant aspects of brassiere manufacturing are covered, e.g. bra design, molding technology and manufacturing automation.

Bra design is substantial to brand product development while innovative molding technology is the key to signature types of bras like sewfree bra, seamless bra and one-piece bra.

Automation has been a global trend in manufacturing as it reduces the labour cost and, on the other hand, enhances the consistency in product quality.