Successful Label Summit, Latin America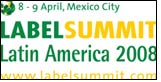 One more successful summit from the Labelexpo Global Series took place in Mexico City on 15-16 April. Label Summit Latin America attracted 653 attendees from Mexico and the surrounding region.

Printing and label industry representatives gathered to hear from international experts about the latest developments in the market, new technologies, current and future trends and also to work together to shape the industry's future in Latin America.

The Summit's conference had two busy days with a variety of presentations by both local and international experts. The subjects discussed included: digital printing technologies, innovations in UV flexo, developments in film, end users requirements, security and brand protection issues and sustainability.

John Wurzburger, Vice President & General Manager of Fasson Roll North America, delivered a keynote speech offering delegates an overview of the current state of the Latin American label market.

He presented his views on the future development of the industry, future materials and technology trends and commented on potential challenges the industry faces going forward.

Panel discussions had a strong focus on technological trends and sustainability issues currently concerning the label industry.

Marty Vavra, Label Product Manager of Wal-Mart, and Luis Maria Garcia, President of Multilabel, held an interesting and engaging panel discussion titled 'Making label printing leaner, greenerand more profitable'.