AHEAD Hybridwear wins Best in Category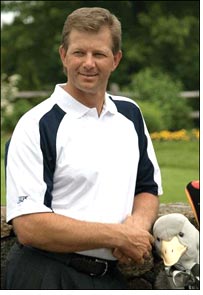 Golf Fitness Magazine named AHEAD's Hybridwear golf shirts No. 1 in the Hybrid category for the 2008 Performance Apparel Rankings (P.A.R.). AHEAD also won the category in 2007.

Golf Fitness Magazine's P.A.R. panel of judges evaluated the apparel entries on the following criteria: style, design, fit, fabric, hand comfort, cool factor, cross over appeal, value, luxury and tour presence.

Entries were evaluated on a 10-point scale with the possible amount of points being 100. AHEAD was once again on top of the Hybrid category with 94 points.

"We are very pleased to be ranked No. 1 again," said Jeff Waller, national sales manager, AHEAD. "Our apparel business continues to enjoy double-digit growth and our performance lines, which includes our Hybridwear and Coolmax collections, have been instrumental to our success.

Golfers are looking for high performance fabrics that keep them cool and dry throughout the round and allow freedom of movement. At AHEAD we have found the winning combination."

AHEAD Hybridwear gives golfers the best of both worlds; the care, comfort and feel of cotton they prefer, along with the moisture wicking benefits of hi-tech fabrics.

AHEAD'S Hybridwear collection is the perfect combination of style and fabric, making it a necessary part of every golfer's wardrobe.

The judges commented that AHEAD Hybridwear apparel had the feel and wear of a classic shirt and the performance benefits of a tech shirt.