Visitors value the i-Tex program and global quality offer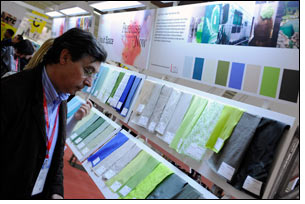 Texworld will hold its 23rd session from Monday, the 22 to Thursday, the 25 September 2008 at the Paris le Bourget Exhibitions Park.

One of Texworld's many goals is to offer it's over 17,000 international visitors a mix that is attractive, original and professional.

Texworld brings together some 900 exhibitors from all over the world and supports business right through the textile and clothing chain, especially fashion accessories, and ready-made clothing.

By continually increasing the variety on offer and improving services, industry professionals and buyers are able to make optimal use of their time at the fair.

"There's always something more!" say visitors to Texworld, (surveys carried out at last February's Session), always more on offer, more variety and more choice.

More than 85% of visitors questioned came to Texworld to find new products, new suppliers or to establish new contacts. Most of the visitors to Texworld are decision-making professionals, or strongly influence purchasing decisions.

Texworld meets their high expectations by bringing together many exhibitors from a great variety of countries, mainly from Asia, thus offering a greater range of fashion fabrics in regards to both quality and creativity and, of course, unbeatably competitive prices.

As with the Clothing sector, which includes men's, women's and children's ready-to wear, sportswear and fashion accessories, the Accessories sector was created in response to a real need.