Companies urged to make crucial sustainability changes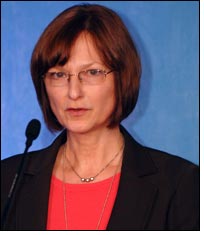 Unseasonable and extreme weather patterns, economic uncertainty and critical environmental targets will increasingly impact the global fashion climate for the foreseeable future. Companies were urged to make crucial sustainability changes to their businesses now before governments force the issue.

This was the unequivocal message impressed upon the 150 delegates at the 15th ASBCI Annual Industry Conference held in Rugby by eminent out of industry experts from the Royal Meteorological Society, the Bank of Scotland Treasury, parliament and the Soil Association.

From within the fashion industry speakers from Marks & Spencer, Tesco Stores, environmental brand Patagonia, Julia Smith eco-fashion design, Kurt Salmon Associates and Reliance Industries the world's largest producer of polyester revealed how they are rising to the environmental and economic challenges.

Less dependency on China, more European sourcing, emerging sourcing hot spots in North Africa and Russia, ever faster fashion closer to season and catwalk trends, large-scale industrial recycling, reduced carbon emissions and water waste, environmental packaging innovations and new garment design concepts are all evolving as key trading imperatives.

Diane Waterhouse, ASBCI conference chairman opened the conference with a dramatic video showing the havoc wrought by 12 months of extreme weather conditions, global warming and the credit crunch. The day conference proceedings chairman Julie King, head of department fashion & textiles at Leicester's De Montfort University went on to set the scene by explaining that unpredictable weather patterns are putting more pressure on retailers to deliver fashion closer to season.