Rower's athletes wear Line 7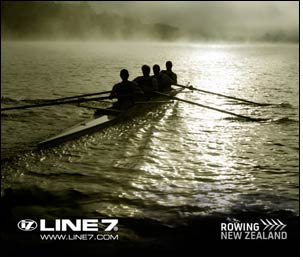 Rowing's top athletes will be wearing Line 7 kit for the next three years thanks to a new supply partnership signed by the company and Rowing New Zealand.

Line 7 will supply competition and leisure apparel to Rowing New Zealand's national rowing teams at Elite, Under 23 and Junior level from now until after the 2010 Rowing world Championships at Lake Karapiro. The company will also produce a range of Karapiro 2010 World Rowing Championships apparel.

The 2008 national team elite athletes – which include Mahé Drysdale, the Evers Swindell twins, Rob Waddell and world champions Hamish Bond, Eric Murray, Carl Meyer, James Dallinger from the coxless four – will all wear Line 7 apparel during the season, a season which will include the Olympic Regatta in Beijing.

While product will be supplied exclusively to the teams, Line 7 also plans to market the associated merchandise range via its web site, the Rowing New Zealand web site and in selected retail outlets. It will be the first time that Rowing New Zealand has officially sold a merchandise range and reflects the growing size and professionalism in the sport.

An imaginative and innovative fundraising deal will also see a percentage of each sale being donated back to Rowing New Zealand to help fund its growing national teams.

The national rowing team is the latest in a series of successful partnerships for Line 7. It already has major sports partnerships with Emirates Team New Zealand, Yachting NZ, A1 GP Team New Zealand and the Sir Peter Blake Trust.

Line 7 CEO Ross Munro says the company is looking forward to another successful relationship with New Zealand's top rowers – in 2008 and beyond.

"Line 7 loves to get involved with New Zealand sporting teams competing on the world stage. Over the years we have been involved with many of the country's successful sailing teams and individuals.

"We see many similarities between the sports of rowing and sailing and that was major plus for us when deciding to get involved. Hopefully the trend of New Zealand winning lots of Olympic medals whilst sitting down will continue this year!"
Rowing New Zealand High Performance Manager Andrew Matheson said the organisation was thrilled to have a sponsor of Line 7's calibre.

"We're excited to have a partner on board that's renowned for innovation and technology in sports performance. Line 7 understands what athletes need, and has a long history of involvement with high performance apparel. It was a logical partnership from our perspective, and we're looking forward to working with Line 7 in the years to come."

Ross Munro said the company's involvement with Rowing NZ opened up great opportunities for Line 7's designers to work alongside some of the world's leading athletes and learn from their experiences. The technology and product innovations developed in these relationships would be carried across to some of the core Line 7 products so loyal Line 7 customers would benefit as well.