Oakley introduces Gretchen Bleiler Signature Series Collection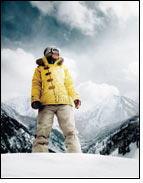 Oakley Inc announced the launch of the Gretchen Bleiler Signature Series Collection, a women's line of technical outerwear, lifestyle apparel and accessories available this fall from Olympic silver medalist and four-time X Games snowboard champion.

The Gretchen Bleiler Signature Series Collection by Oakley is the first time the company will release a comprehensive apparel series inspired by a single athlete. The unparalleled designs in the new collection offer a bold and edgy attitude in simple yet sophisticated style.

"With her independence, inner strength and outgoing style, Gretchen is the perfect partner to ignite our women's movement," said Jenn Bradley, women's brand director, Oakley.

"Oakley evolved in the youth culture of action sports, empowering those who define their own lifestyles. Gretchen embodies the courage and charisma that inspire women, and her sense of style and individuality shines through in her collection."

Gretchen adds fashion designer to her ever-expanding repertoire of accomplishments. Every aspect of the new line echoes her independent spirit.

She worked with Oakley's expert designers to create a 17-piece collection that ranges from goggles and sunglasses to jackets and accessories, many of which carry her signature lion motif.

"This collection mirrors snow sports themselves – it's a little racier than downhill skiing, a little bolder than cross-country but respectful of the power of the mountain and the heritage of mountain sports," said Snowboarding Legend, Gretchen Bleiler.

"I wanted to create clothing I would be excited to wear, and something entirely new that could take me from daily riding to just chillin'.

That desire was fulfilled for instance by the beanies which fit under helmets but also can be worn around town, as well as a long sweater that can be worn as a base layer and still adds feminine flair off the mountain."

The new collection puts an edge on classic styling by blending subtle lines with bold details. Bridging the gap between form and function, every detail in the line embodies Gretchen's spirit.

From the most desirable technical outerwear to the lightest organic cotton tees, there's a sense of rhythm that mirrors a smooth ride down the mountain.

Antique brass hardware adds personality to functionality, but the line is still highly technical with up to 20,000mm breathable waterproofing in performance pieces.

Designs include added features that Gretchen looks for in her gear, such as the button system added to the back of the pant leg to keep it from dragging.

The jackets have an asymmetrical zipper with leather snaps across and a removable fur-trim on the hood to give it a designer feel.

The pants are low-rise and boot-cut with a belt to accessorize, offering a relaxed performance fit but with a more flattering slimness than conventional designs.

Gretchen's concerns about the environment led to the use of recycled ECO STORM materials in select performance pieces. These textiles are a benefit of ECO CIRCLE technology that reduces energy and carbon dioxide emissions by one-fifth compared to the manufacture of raw polyester.