Giorgio Armani launches leg & bodywear S/S 2009 collection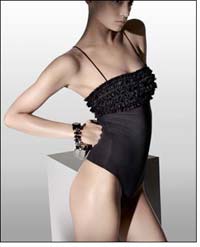 Romantic and luxurious detailing on discreetly glamorous, high-quality fabrics dominate the giorgio armani leg & bodywear collection for spring/summer 2009. stylish frills and bows, sparkling crystals and delicate flowers on precious lace are the sophisticated details that make this collection so seductively feminine.

The 21 leg and bodywear designs, ranging from elegantly conservative to bewitchingly glamorous, stand out on account of their ultimate comfort very feminine cut. the designs can be teamed up in many different ways and complement the fashion and style of giorgio armani.

GIORGIO ARMANI S.p.A.