CPH Vision & Terminal-2 ready for take off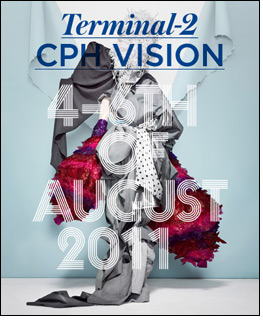 CPH Vision continues to grow and the forthcoming season we present an even stronger profile and design-driven portfolio. The focus is on Scandinavian design, feminine fashion, well-established international designer brands as well as up-and-coming designers.

This makes CPH Vision the place to discover something new and interesting. The brands will be presented in beautiful Nordic lifestyle surroundings. Egekilde will follow up on last year's unique floral arrangement and you will have to hold your breath, when the world famous florist Nicolai Bergmann presents his unique flower creation in the garden in front of Oeksnehallen.

Approximately 160 exhibitors will attend in August, amongst them Twist & Tango, Naledi, Ilse Jacobsen, Apair, Liebeskind Berlin and Helje Hamre.

Terminal-2 is the melting pot for buyers and an exclusive mix of Scandinavian and international brands aimed at a contemporary audience - reflecting the best brands of today's market. Here you find everything from high-end heritage brands to denim and urban-wear brands.

The atmosphere will be intense as always as the inspiration for the surroundings comes from the increasing influence of heritage brands - in terms of craftsmanship, tradition and history. Cool new brands and big international names are on the agenda – We will present approximately 150 exhibitors with brands like Adidas Originals, True Rebel, Resteröds, Dr. Denim, Boomerang and WeSC.

CPH Vision and Terminal-2 are each season kicked-off with press shows at sensational venues and fashion forward stylists, showing what the exhibitors are made of, making them both one-to-watch for both Scandinavian and international press, buyers, bloggers and great fashion personalities. All carefully selected and invited by The Vision Family.

The pride of the Copenhagen Fashion Fairs is the Designers Nest Show & Award - a design contest for up-and coming Scandinavian students, awarding the most promising and talented, with the grand prize of 50.000 Dkr. Presented by HRH Crown Princess Mary, patron of Designers Nest. Designers' Nest receives great recognition in Europe and to continue this evolving process, we have invited five international fashion personalities to be a part of the Panel of Judges – soon to be announced.

With an everlasting strong focus on helping new up-and-coming designers showcasing their collections for press and buyers, we are also pleased already to announce a collaboration with "Not Just a label" the world's leading designer platform for showcasing and nurturing today's pioneers in contemporary fashion the leading global directory for emerging fashion designers and nothing less than Vogue Italia.

This season we also present the Designers' Nest Exhibition at CPH Vision with beautiful outfits from the Design students from eight Scandinavian Schools. The Exhibition will take place at the entrance of CPH Vision, open in Thursday the 4th-6th of August.