Impressive line-up of trends & seminars at Pure London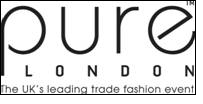 This season will see the most impressive line-up of trend presentations and business seminars taking place over the three days in Olympia and Earls Court.

22 catwalks across three stages and a timetable full of industry experts and inspirational speakers; Pure London will offer visitors an insightful, invaluable experience.

Below is a selection of highlights - not to be missed!

Catwalk show:
Pure London will present buyers with the very best of Spring Summer 12' across three stages.

In the Grand Hall, Pure London presents the Contemporary Stage which is set to display full collections from top brands including Natural Cotton, Custo, Anoushka G, Mais il est ou Soleil, Oshun, Rene Derhy, Brazil Roxx, Annaive, Aurea Prates and YaYa.

The Inspiration Stage in the National Hall will present visually stunning catwalks styled in-line with WGSN trends. Head to Pure Spirit to see the hottest brands grace the young fashion catwalk, three times a day including Rinascimento, Forever Unique, Glamorous, Only, Vero Moda, Iron Fist, Vila, Yumi and Angeleye.

The Spirit catwalk will reveal captivating collections from the Graduate Fashion Week Gold Award Finalists to give visitors a second chance to see the winning collections. Designers include Rory Longdon (George Gold Award), Marissa Owen (Womenswear Award); Dominique Kral (Zandra Rhodes Catwalk Textiles Award); Wonjee Chung (Stuart Peters Visionary Knitwear Award) and Christina Economou (International Award).

'The Kate Effect':
Milliner to the Royals, Vivien Sheriff will talk about the 'The Kate Effect' and how she felt as 2 billion eyes watched her stunning creations adorn the heads of several guests at the Royal wedding.

Social Media - making it work for you:
Visitors can receive the foolproof recipe for engaging with customers online from Donna Ida Thornton, and Red Magazine online editor, Lisa Helmanis.

Q&A with Caryn Franklin:
Fashion Editor of Drapers, Laura Weir, takes to the stage with fashion expert Caryn Franklin to discuss everything from the Clothes Show to the globalisation of fashion and the rise of Primark, plus, they look ahead to what the future holds.

WGSN Trend Confirmation:
World leading trend forecaster WGSN's Senior Retail Editor, Lorna Hall, will present inspirational womenswear trends for Spring Summer 2012 to help visitors buy into the right collections, styles, colours for the season.

Successful women in business:
Eric Musgrave will interview renowned entrepreneur Thea Green, founder of beauty empire Nails Inc, as well as Alison Lloyd, director of accessory brand Ally Capellino. Thea and Alison will offer an insight and practical advice to realising your business potential and carving your very own empire.

Zandra Rhodes:
The Queen of British fashion, Zandra Rhodes, will return to the show and discuss her lifelong love affair with textiles. Don't miss a very special Afternoon Tea with Adele Marie and Zandra Rhodes on Monday 8th August at 2.45pm in the Fashion Cafe. Take a seat; enjoy champagne and cakes whilst they present their stunning jewellery collaboration.