Joe Casely-Hayford returns for John Lewis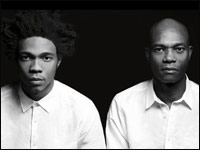 This September sees John Lewis reveal its fourth and first full scale exclusive collection designed by Joe Casely-Hayford, one of Britain's most influential contemporary designers. The ongoing ethos behind the collection is based on a celebration of authentic, modern classic British style and focuses on a streamlined wardrobe for contemporary men who appreciate, design, quality and attention to detail.

The Autumn Winter 11 collection is the largest yet and continues to build on the strong foundations laid in the three previous capsule collections. Having established a strong following of worldly, well informed men through exclusive collaborations with some of the UK's finest heritage manufacturers, such as BARBOUR, LIBERTY and ABRAHAM MOON; Joe continues to celebrate craftsmanship and home-grown British manufacturing by joining forces with new collaborators such as GUERNSEY and WILLIAM LOCKIE.

Matt McCormack, Head of Buying Menswear at John Lewis, says, "Once again Joe has worked closely with respected British Mills to develop unique exclusive cloths for our customer, as well as reintroducing some updated forgotten English favourites. Bringing specialist products to a wider audience without losing integrity, this season's collection forms the perfect bridge between formal and casual wear. "

Joe Casely-Hayford, continues, "What gives the collection distinction is the cut and subtle design we have nurtured since developing unique 'blocks' for the John Lewis man.

These new shapes are elegant, contemporary and sexy; cut to work on a wide range of body types to suit the modern man."

Joe's Autumn Winter collection takes inspiration from Eric Newby's seminal travel book, A SHORT WALK IN THE HINDU KUSH in which Newby makes an ill-prepared yet legendary journey from his family Couture fashion business in London's Mayfair to the more remote peaks of the Mir Samir Mountain in Afghanistan - before returning to London in 1959 where he worked as a fashion buyer at John Lewis until 1963.

On his ascent, Newby meets Wilfred Thesiger with whom he exchanges notes on Savile Row tailors. Drawn in by the tale's lightness and wit, Joe has ensured each piece from the AW collection takes its name from this book. In design terms, the collection starts out in MAYFAIR with beautifully tailored English outerwear such as the forgotten classic BRITISH WARM OVERCOAT or the essential CHESTERFIELD, and then gradually evolves into more rugged pieces like the new BARBOUR DUFFLE JACKET or the richly coloured MOLESKIN and CORDUROY TROUSERS.

Autumn Winter sees the exciting introduction of two key seasonal overcoats – the BASKERVILLE and the SAMIR. Both created out of fabric woven in England by The Abraham Moon Mills in Yorkshire, the BASKERVILLE is a British Chesterfield in muted Glen check while the SAMIR is a modern take on the authentic British Warm Overcoat Beautifully tailored in exclusive 700 gram. MELTON and finished with real Corozo buttons.