Lamya's Oasis collection relives vibrancy of Bedouin lifestyle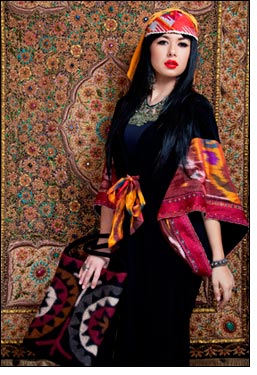 Iconic abaya designer Lamya Abedin has taken a trip down memory lane with her latest collection for the Holy season of Ramadan. Tradition and cultures of the yesteryear come alive in her 'Oasis Collection'. Inspired by the Bedouin lifestyle in the Arabian Peninsula, the Oasis Collection showcases the traditional silhouettes that has come to be identified with the rich aboriginal heritage.

The collection presents a wide array of unique pieces that intrinsically features colourful hues and aristocracy associated with the Bedouin culture. An element of modernity merges with tradition and style in the Oasis collection, which is a result of Abedin's long-drawn research and study on the traditions and identity of Bedouins.

"My creativity has always been primarily driven by different cultures and countries, and I wanted to bring together the authentic Bedouin experience through my new collection. Ramadan was an apt time to reflect on our traditions and I showcased my love for our historic heritage through the Oasis Collection - a collection that is soaked on our history and relives the vibrancy of Bedouin lifestyle," says Abedin.

"This collection brings forth an element of warmth and a pleasant feel – much like an oasis in a desert! It is very functional and yet opulent," adds Abedin.

The collection has been put together with a wide array of Kilims and Ikats [ancient kind of weave] from Saudi Arabia, Turkmenistan, Turkey, Jordan and Lebanon. Chiffons, silks and crepe fabrics have been used to add a touch of glamour, luxury and elegance. From modern, urban styles, Abedin has moved to age-old designs and vintage fashion for her latest collection. The Oasis Collection offers a variety of styles – from the Daffa [an abaya worn around the head]; cloak abayas [where the stylized hood can replace the Sheila if preferred]; Sirwal abayas [where vintage petticoat styles have become a fashion statement] among other traditional designs in high fashion techniques.

The usually spotted neo styles and designs of a Queen of Spades creation have given way to the more traditional flowing designs in this special collection. And it's all about the desert lands. The abayas have also been named inspired by the sands, dunes, sunsets, tents and aboriginal tribes. Abedin was inspired to call her pieces beautiful Arabic names such as Khaimat Al Baydaa (desert tent), Ghuroob (sunset), Rimal (desert sand dunes) etc. The colours too translate the desert sun with hues of bright reds, yellows, blues, violets, greens and magentas.

As always, the collection blends fashion with functionality. The abaya can be worn in different ways to suit one's style and persona. "Wear it over your head for the Daffa look, or lay it over your shoulder like a shawl and flip it for a touch of style," recommends Abedin. "The collection is elegant, yet comfortable and can be paired and accessorised beautifully. It doesn't expose any skin even if the abaya is lifted or modified for comfort. Try some beautiful ankle cuffs or a pair of exquisite shoes to complete the ensemble," says the expert.