Celebration of Spanish Joaquín Sorolla styles in New York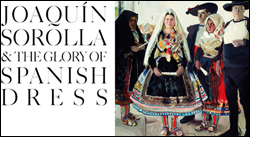 Queen Sofía Spanish Institute is presenting Joaquín Sorolla and the Glory of Spanish Dress, a seminal exhibition analyzing the rich history of Spain's regional clothing styles through the monumental paintings of Valencian artist Joaquín Sorolla y Bastida (1863–1923). It is already stared on December 8 and will run until March 10, 2012.

Celebrated as a painter of light and hailed as a "modern of the moderns" by art critic Duncan Phillips, Sorolla was one of the most successful artists of his time, lauded for his free brushwork and his exceptional ability to capture atmosphere. For the first time, Sorolla's vivid depictions of Spanish life will be shown side by side with the types of costumes they portray in a spectacular display of Spain's traditional dress in all its glory.

The exhibition will feature more than ten paintings and over thirty rare examples of men's and women's clothing and accessories. From rugged work wear to festive and ceremonial dress, the array of styles will include an intricately embellished shepherd's ensemble from Extremadura, an eighteenth-century inspired Valencian gown of luxurious brocaded silk, and a dramatic wedding dress from La Alberca, resplendent in its abundance of jewelry.

Bright color combinations, lavish ornamentation, and highly decorative jewelry and accessories are hallmarks of many of the traditional ensembles on view.

A selection of clothing from contemporary designers, including Cristóbal Balenciaga, Yves Saint Laurent, Stefano Pilati for YSL, Christian Lacroix, Karl Lagerfeld for Chanel, Alexander McQueen, and Marchesa will show Spain's enduring influence on fashion.

Joaquín Sorolla and the Glory of Spanish Dress was conceived by Oscar de la Renta, chairman of the Institute's board of directors and a tireless patron of the arts who worked closely with the exhibition team to develop and realize the show.

This compelling subject was inspired by the deep love of Spanish art and culture that Mr. de la Renta developed during his years living in Spain, where he moved at the age of eighteen to study painting at the Royal Academy of Fine Arts of San Fernando in Madrid, where his own illustrious design career began.

The exhibition curator is André Leon Talley, editor of Vogue's monthly column "Life with André." Talley received a Master of Arts degree in French literature from Brown University and later moved to New York City to assist Diana Vreeland at The Costume Institute at The Metropolitan Museum of Art.

He is recipient of the Eugenia Sheppard Award for Excellence in Fashion Journalism by the Council of Fashion Designers of America and a member of the board of Trustees at Savannah College of Art and Design, where each year, the André Leon Talley Lifetime Achievement Award is given to a designer in recognition of their significant contributions to fashion.

In 1911 The Hispanic Society of America in New York commissioned Joaquín Sorolla to paint Vision of Spain, which was completed in 1919 and installed at the Society in 1926. The fourteen large-format canvases showcase eleven regions of the country, focusing on rural life and traditions.