83 designers to pay tribute to Indian textile at LFW ramp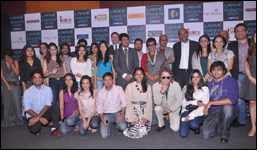 Lakmé Fashion Week announced the lineup of their 83 designers and 9 sponsors participating this season in the upcoming Lakmé Fashion Week Summer/Resort 2012 scheduled from March 2 to March 6, 2012 at the Grand Hyatt, Mumbai.

Lakmé Fashion Week announces participating designers and sponsors for Summer/Resort 2012. This season promises several new initiatives to showcase designs from around the world, exchange of ideas, a networking base and a stage where artistic form of expression is celebrated. Leading the curve in promoting new talent, e-commerce and digital strategies, LFW continues to grow and expand its footprint across the world.

Highlights of LFW Summer/Resort 2012:

As a tribute to Indian textiles, LFW will be dedicating a day to Indian Craftsmanship and Textiles. All designers participating on this day will showcase Indian weaves and crafts. Krishna Mehta, a staunch supporter of Indian arts and crafts will curate the day. The event will see industry veterans participating in guest lectures, panel discussions and workshops. LFW's endeavour is to aggregate the best designers who work with indigenous fabrics and put together a collection bringing the dominance of Indian textiles to the fore

Lakmé Fashion Week will see iconic international Designer Bibhu Mohapatra presenting a show on the LFW Runway. This will be his first time participating at a Fashion Week in India.

Rohit Bal returns to the LFW platform as the Lakmé Grand Finale designer after 12 years. The veteran designer will be interpreting the Lakmé Absolute range by Lakmé.

Last season, "The Source" - the business hub at LFW had gone for a complete makeover to drive more business and meet the demands of buyers. This season LFW continues the re-vamp of the source and will be seen in a completely new look with instillations and designer exhibits. The new source will also see an interesting mix of art, culture and various other activities thereby making it the central point of business interactions.

The international concept of showcasing designs in mini shows in the form of 'Talent Box' introduced by LFW last season was a great success. This season witnessed an increased in the number of applications - almost 20 designers will showcase through the Talent Box shows.

LFW TV, the online channel that live streams designer shows and showcases behind the scene activities from Lakmé Fashion Week across the globe will see Super Model Nina Manuel come on board as our host this season. She will bring to the viewers exclusive content of shows, behind the scenes action, trend reports, exclusive interviews, parties and much more from India's premier fashion trade platform. This online streaming channel will take a step further and allow buyers, sponsors and fashion enthusiasts, around the world to gain real time access to the action.

Through the Fashion Workshop Series (FWS), LFW has created a platform for industry leadersto share best practices. The fashion community and students from fashion institutes all over India participate in the fashion workshop series. This season, the sixth edition of the FWS, will focus on fashion styling.