Fusion of creative minds at 'Fashion beyond Borders'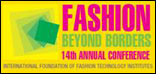 Leading designers, retailers, stylists, educators, manufacturers and other key stakeholders from the fashion and design industry await to converge in Jaipur for IFFTI 2012 – one of the largest gatherings of thought-leaders, creative minds and entrepreneurs in India. Hosted by the Pearl Academy of Fashion and held in Jaipur from March 17-22, 2012, IFFTI will bring together some of the leading names around the world for a conference aptly themed 'Fashion Beyond Borders'.

Dr AKG Nair, Group Director, Pearl Academy of Fashion said, "We are proud to host some of the most creative minds from across globe and provide an exclusive platform for the exchange of ideas, collaborative research and development in fashion design, technology and business and related industries in India and abroad."

IFFTI 2012 will be launched by Angela Missoni, co-owner and creative director of Missoni S.p.A. a global leader in design and fashion. She will be joined by other industry leaders including Rajeev Sethi from the Asian Heritage Foundation, Romeo Gigli, Italian Designer, Simon Lock, Creative Director, Dubai Fashion Week, Jeffry Aronsson, CEO, Emanuel Ungaro, , Santosh Desai, Managing Director & CEO, Future Brands Ltd, Ram Sareen, Head Coach/Founder, TUKA group and Frances Corner, Head, London College of Fashion.

Fashion and design, which was once deemed frivolous by traditionalists, is today one of the fastest growing sectors in India; valued at Rs 294 thousand crore per annum. As one of the four BRIC countries, and brimming with creative minds and competitive manufacturing, India is poised to make its mark on the global fashion map with a wide acceptance of Indian design heritage.

With paisley motifs sweeping international runways, Indian embellishments on Chanel and luxury brands like Christian Louboutin dedicating shoe collections to Bollywood and Hermès meticulously putting together an entire sari collection in France, India has arrived on the international design map.

Speaking on India's increasing global footprint in the design arena Mr. Sharad Mehra, Chief Operating Officer of Pearl Academy of Fashion stressed on the need for training and exposure for Indian students, "With the increasingly globalized economy and the discerning taste of younger consumers, we need to ensure our students have the right skill-set to meet the challenges of the future. Conferences such as IFFTI ensure our students understand the nuances and growth areas of this sector."

The conference will provide a networking opportunity for participants with approximately 200 national and international leaders across various fields of fashion and design attending this conference.

Where national designers and manufacturers will be able to discuss trends and business in international markets, the conference will create an ideal opportunity for upcoming and aspiring fashion and design students to witness and be a part of the vibrant dialogue and discussions by think-tanks in Design, Technology and the Business of Fashion from 40 member institutions of IFFTI, representing 19 countries and large enterprises and institutes from India.