OVS unveils S/S '12 line full of frills & flounces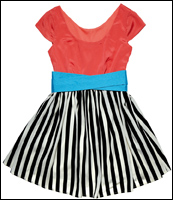 The ideal wardrobe for the very young, combining several styles - romantic, rock, Seventies folk, vaguely retro and Eighties - so that it can reflect a different woman each day. Lines cling to the body for slinky strapless dresses, but are enhanced with frills and flounces in the more romantic dresses, with flower prints and lacy details.

Slimline jeans in lots of colour choices and lots of matching tops, often with frill-embellished necklines - always very feminine. The key pieces of the basic wardrobe are also present, such as T-shirts, shorts, miniskirts, leggings and tops, also printed ones for easy, everyday wear. The season's best-sellers are all one-shoulder garments, from dresses to T-shirts.

Casual:
Five holiday locations and five styles for the more relaxed looks of the season, devoted mainly, but not only, to leisure activities.

San Francisco:
A pencil-slim line defines the San Francisco style offered in the classic marine colour shades, like navy blue, red, and beige enlivened with touches of yellow and optical white. The trench coat comes in all variants and colour shades.

Boston:
Boston is relaxed elegance, in colours and fabrics. Neutral, sophisticated tones like cord, sand, ice and grey with lively orange touches in the details. Basic easy-to-wear fabrics, such as stretch cotton gabardine, stretch cotton canvas and plain or ribbed cotton jersey.

Capri:
Capri is luxury sportswear - a trend that is gaining more and more in popularity. The standard colours of the sports world, like navy blue, indigo and white, are enhanced with details in lavender and faded blue. Naturally this is the realm of denim, alongside Lyocell, cotton-linen jeans, lightweight chambray, garment-dyed gabardine with cold-dyed effects, viscose jersey with cold-dyeing and with jeans effect.

Jodhpur:
An Indian-inspired theme, characterized by draping lines reminiscent of the sari. As well as military and natural shades, the colour range includes vivid colours like coral, teal and curry to enliven garments with details and special features. The fabrics are lightweight and have excellent drape, like fluid jerseys, gauzes, vintage-look washed muslins, or more structured, such as linen with a stone-washed effect, stretch cotton gabardine and garment-dyed linen.

Miami:
Colour blocks dominate, with cold, citrus shades like green and turquoise appearing alongside warmer tones like apricot, chewing gum pink and wisteria. The fabrics used are muslin and soft, lightweight or ribbed cotton jersey, or stretch viscose jersey, embellished here and there with iridescent sequins.

Business:
Eight fashion destinations are the inspiration for the more formal wardrobe trends for the forthcoming warmer season.

Los Angles:
A metropolitan style, with clean, essential lines, to start the season. Classic black and beige are given new life, thanks to light blue and jade notes, used on their own or combined with one another to create unusual prints such as fluorescent animal patterns. The fabrics are mainly twill, cotton serge, crêpe, and viscose or modal jersey, including stretch versions.