Madrid Novias to present First Communion attire for 2013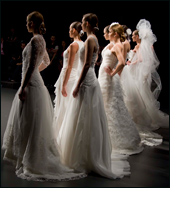 MADRID NOVIAS, the International Bridal Fashion Exhibition, is making the final preparations for its tenth edition, to be staged from 3rd to 6th May in Hall 14.1 at Feria de Madrid.

As at previous editions, this trade event organised by IFEMA will host the staging of the Cibeles Madrid Novias Fashion Shows over its first two days, namely 3rd and 4th May. The catwalk will be located alongside the trade exhibition itself in Hall 14.1 and 17 leading firms will present their latest ideas in wedding fashion, party-wear and First Communion attire for 2013 season. For its part, the trade exhibition will bring together some 80 exhibitors and brands.

The bridal collection from the designer, Ana Torres, will open the fashion show schedule at this edition on 3rd May at 11.00 am. An hour later, the catwalk will present a double show featuring the bridal creations of Isabel Zapardiez and the bridal and party-wear collection from Rafael Urquizar. For his part, Miquel Suay will present his ideas for men at 1.00 pm., which will be followed by a show featuring the bridal designs of Paula del Vas at 2.00 pm.

On the afternoon and evening of the first day, Miquel Suay will present his bridal collection for 2013 with a show at 5.00 pm, whilst Lucia Botella for Pepe Botella will present her ideas at 7.00 pm.

The shows featuring wedding fashion collections will continue on the morning of Friday 4th May, with a double show at 12.00 pm where the lingerie and underwear firm, Emperatriz, and the designer Pol Núñez, will present their collections.

The programme at this edition of Cibeles Madrid Novias will conclude with the now customary show featuring First Communion, bridesmaid and page attire, which will take place on Friday 4th May at 1.00 pm. This presentation will showcase the collections of the following companies: Barcarola and Lovely Day y the designers Hortensia Maeso for Rubio Kids, Miquel Suay, Agatha Ruiz de la Prada, Javier Larrainzar, Victorio & Lucchino and Elena Rubio.

As part of an initial trends preview, in 2013 we will once again observe the leading role that has been granted to the romantic bride, although this approach will be accompanied by a series of audacious, fun and surprising touches, especially in relation to accessories and complements that are designed to accompany the dress. Materials such as wild silk, muslin, mikado and organza will envelop the figure, being enriched with delicate crystal, pearls and embroidery applications, based on a unique finish. As far as colours are concerned, ivory, natural shades and everlasting white will be accompanied by more intense shades such as green, red, blue and even black.

Morning suits and tuxedoes will dominate the bridegroom collections. This classic and sober style will also include a series of new features, such as visible stitching, colourful details and even designs in shades such as pearl, beige and indigo blue.