Indian designers vie for Merino wool design global prize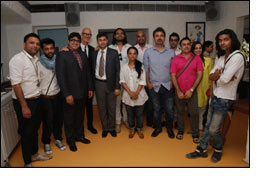 The international Woolmark Prize crosses borders and cultures by seeking outstanding and emerging talent from around the world, aligning the support of emerging designers with the evolution of emerging countries. It is an award for the next generation, shifting the focus from glamour to true talent as a way to highlight wool's eco credentials. It is Woolmark's social commitment, a sharing of resources to support local artisans.

In keeping with a long tradition of supporting individual excellence in design, the International Woolmark Prize aims to highlight the beauty of the Merino wool fibre at the hands of the world's finest designers.

Five regional awards will be held in Australia, China, India, Europe and the US. The winner from each region will receive A$50,000 as a contribution towards their next collection as well as an invitation to participate in the international final.

The winner of the international final will receive a further A$100,000 to assist in underwriting their next fashion show. In addition, the international winner will have their collection commercialized through key international retail partners including Harvey Nichols in the UK and Lane Crawford in China.

The Australian Wool Industry has supported many designer support programs dating back to the illustrious International Wool Secretariat (IWS) design award of the 1950's which founded 2 relatively unknown designers of the time in Paris, Yves Saint Laurent and Karl Lagerfeld, through to the most recent incarnations by AWI such as the Protégé program in 2007 which aligned some of the worlds most established designers such as Karl Lagerfeld and Donatella Versace with young protégés of their choice. Most recently, the Woolmark Prize, which revived the original IWS awards, was held in Paris in 2008.

With the benefit of over 60 years of design award experience, The Woolmark Prize has been reinvented for a new generation through strategically tapping into the social media networks and establishing itself as the most innovative and cutting edge design award of our time.

The following designers have been nominated from India;

1. Aneeth Arora
2. Arjun Saluja
3. Gaurav Gupta
4. Pankaj and Nidhi
5. Rahul Mishra
6. Rimzim Dadu
7. Ritesh Kumar
8. Samant Chauhan
9. Smita and Himanshu
10. Zubair Kirmani

The regional awards will be held in July where the designers are required to present sketches of a Merino wool capsule collection comprising of 6 outfits with one full outfit to be produced. These collections will be judged by a panel of local and international experts. The India judging panel comprises some of the countries most respected industry representatives including:

• Priya Tanna – Editor Vogue India
• Simon P Lock – Founder of Australian Fashion Week
• Sunil Sethi – President of Fashion Design Council of India
• Pradeep Hirani – CMD of Kimaya Fashion Pvt Ltd.