Premiere of fashion project 'Ready to rise' in Serbia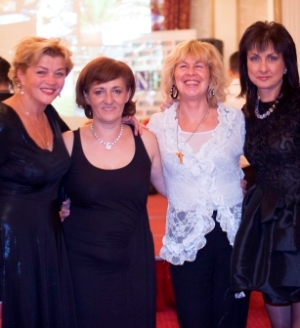 Extremely successful for the Republic of Serbia has proved the present 2012 years with the official invitation of the country to join the European Union and its first achievements through the National Fashion Chamber of Serbia. The national project "Ready to rise" that the organization successfully implemented in partnership with the Province of Vojvodina was a final recognized and included in the Report of the European Union with the program and objectives of the European Fashion Council for world application in implementation of the Convention EU-UNESCO for protection and application of new forms of culture.

With Premiere in royal style in one of the most luxurious and prestigious places in Sremski Karlovitsi next to Novi Sad, in the halls of the 5 star hotel "Premier President", the President of the National Fashion Chamber of Serbia Ms. Svetlana HORVAT gave an official reception for political, diplomatic and business elite with 120 selected most prominent guests to celebrate this and other successes of the organization. EFC was represented by four Member States through the President of EFC Ms. Nadya VALEVA (National Fashion Chamber of Bulgaria), Vice President of EFC Mrs. Gabriela WALEK (National Fashion League Hungary), Mrs. Amela RADAN founder and member of the EFC (Sarajevo Fashion Week organization of Bosnia and Herzegovina) and Serbia as a host.

"We are proud to share with you on this achievement of Serbia as approved part of the EU with its highly developed and creative fashion industry", said in her speech the President of EFC Nadya VALEVA. This project is of great importance for Europe and the world not only for its charity fund to support refugees. The project combines united presentation of fashion, music, fine art, food and beverage destination for cultural tourism in an elegant form of development of the most dynamic economic and cultural industries. "For EFC is honored Serbia to be a part of us for the future of the European Community" concluded Nadya VALEVA regarding Serbian success.

The gala evening of the National Fashion Chamber of Serbia presented the best performance with live musical events of a national folklore and modern music and presentation of the authentic Serbian clothing national style. Guests were delighted to see and collections of fashion designers, including the Chairwoman of the organization itself, Mrs. Svetlana HORVAT. She also manager is well as one of the leading names of Serbian fashion industry.