Holly Willoughby unveils yet another collection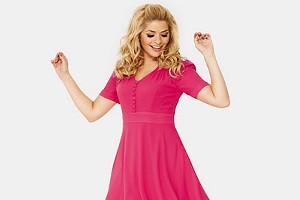 Holly Willoughby, the famous English television presenter and fashion designer, unveiled her 10th collection for the online store Very.co.uk.
Aimed specifically at curvy voluptuous women, the 31-year-old designer's cute girly line is a mix of comfortable flattering outfits and figure-fixing lingerie.
Holly, who herself has modelled in her new creations, offers a range of ensembles like chiffon or lace collar printed tea dresses, pleat shouldered pencil-cut outfits, printed and petal sleeve gowns and capri trousers in her latest collection.
The British daytime television host's 15-piece line is available in sizes ranging from 8 to 20.
Fibre2fashion News Desk - India