Australian actress Rebel Wilson unveils hilarious tee line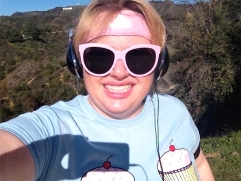 Rebel Wilson, the popular Australian actress and stand-up comedian, has once again proved her inimitable sense of humour by releasing a line of cheeky T-shirts.
Exclusively meant for plus-size figures, the 26-year-old actress's new collection titled Fat Mandi includes two shirts in candy blue and bubblegum pink.
The deliciously coloured T-shirts features strategically placed images of cupcakes and donuts.
Known for her hilarious performances in SBS comedy series' 'Pizza' and sketch comedy's The Wedge, Wilson wrote, produced and starred in the famous musical comedy series Bogan Pride.
Fibre2fashion News Desk - India