Spanish journalist designs T-shirts with powerful slogans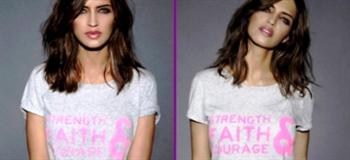 Sara Carbonero, the famous Spanish television presenter and sports journalist, has designed T-shirts to raise awareness against gender violence.
The shirt has been created in collaboration with the popular T-shirt brand The Hip Tee and humanitarian organization Red Cross.
The 29-year-old's design includes a grey coloured T-shirt featuring a powerful slogan 'Strength, Faith and Courage', directed towards the gender violence and abuse victims.
Available at the brand's outlets and online, proceeds from the sale of the shirts will go to the women who have been the victims of male violence.
Fibre2fashion News Desk - India