Korean star Jang Nara is new face of Chinese clothing line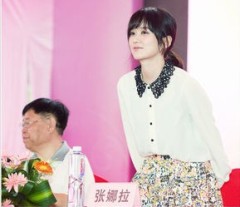 South Korean actress and singer Jang Nara has formally signed an endorsement deal with a leading Chinese clothing company.
The Korean singer is already a face for various products, including apparel, home appliances, beverages and cosmetics that inspire women.
The Chinese clothing company that signed Jang Nara said the company's new clothing line blends very well with the cute and lovely image of the Korean actor-singer, according to Kpopstarz.com.
On the occasion of the contract's announcement, the Korean star spoke to her Chinese fans and expressed enthusiasm over her visit to China.
Jang Nara has played the leading role in many TV sit-coms and movies. Her latest Chinese drama 'Bratty Princess' brought fame to her in China and other Chinese-speaking countries in Asia.
Fibre2fashion News Desk - China