Kellan Lutz of Twilight fame unveils clothing line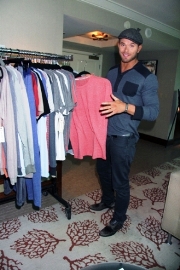 Kellan Lutz, the dashing American actor who played the glittery skinned bloodthirsty vampire Emmett Cullen in 'The Twilight Saga' film series, has recently unveiled the pre-spring 2014 collection of his casualwear line Abbot + Main in Las Vegas.
Available for sale at Bloomingdale's and Nordstrom stores, the 28-year-old's newly launched range features an array of smart apparels for both men and women.
Meant for layering over one another, the pieces include soft, slim-fitting T-shirts, hoodies, peachy long-sleeved sweaters and matte gray-coloured draping tank tops.
Founded in 2011, actor-designer Lutz's clothing line Abbot + Main was named after an intersection point at the Venice Beach, California.
Fibre2fashion News Desk - India