Tarun Tahilini to show A/W & couture line in Nizam's city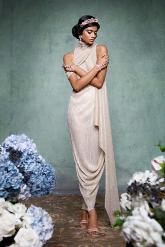 Celebrating one year of master couturier Tarun Tahiliani's first boutique in the Nizam's city, Tarun Tahiliani will showcase his latest Autumn-Winter and Couture collections on September 12, 2013 at 6:30 pm at The Kaveri, Trident, Hyderabad.
The nostalgic elegance of Hyderabad and distinct influence of the royalty as patrons of art, culture and opulence resonates with Tarun Tahiliani couture.
An exclusive selection of ready to wear, occasion wear collections will be showcased on the ramp while a capsule of the couture collection will be on a special display.
Tarun Tahilini