Denim Story unveils white jeans collection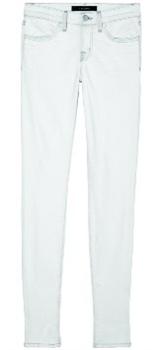 Denim Story brings you the very first of it's warm hues for Fall'13. The Goldsign Zebra Charcoal legging is very similar to the Jem Legging. With a mid-rise elasticated band in an elegant grey and a super comfy, soft fabric it is perfect for those boots you've been longing to wear.
This is the year of "Winter Whites" around the world. White jeans are becoming an extremely popular with the fashionistas owing to the classy colour that's easy to style. The J Brand Frostbite as the name suggests is a wonderful fit that you can team up with a great pair of boots and a leather jacket to give a straight off the runway look. This one's the perfect pair of white jeans you've been looking all over for!
The ever popular J Brand has also introduced a new style which is a cross between a Skinny 811 and a Pencil leg 812. The J Brand 8112 Atmosphere Mid-Rise jean is for those who prefer a straighter slim leg with not too much of a skinny. This is the classic J Brand Mid-Rise Skinny Straight leg fit in Blue with a slightly washed out look in the front. It's an all-day jean that can be paired up with a casual cape in the day & a classy coat at night. You could throw in a pair of pumps for the added style quotient.
A Super Skinny distressed look by J Brand could never be a wrong choice. The J Brand 620 Quantum gives you a great fit, great style and is super comfortable for day wear. Dress it up with a casual booties and a casual blazer for a fun winter look.
Denim Story