A string of exquisite outfits on display at Perth festival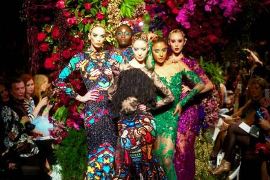 The first two days of the ongoing fifteenth edition of Perth Fashion Festival saw a string of exquisite outfits, designed by famous Western Australian designers.
The first day was opened by fashion label One Fell Swoop, which showcased exotic silk and sheer fabric made ensembles, followed by brand Zhivago's catwalk presentation comprising structured shouldered dark coloured outfits teamed with bejewelled leather caps.
Day two saw celebrity designer Jaime Lee Major's latest Light Magic collection. Inspired by the Neo-Gothic cathedrals of Europe, the range featured 22 bead-encrusted fishtailed gowns.
In addition to dramatic gowns, the Australian demi-couturier also featured menswear as well as seven ivory and gold hued bridal dresses decorated with pearls, Swarovski crystals and feathers.
Fibre2fashion News Desk - India